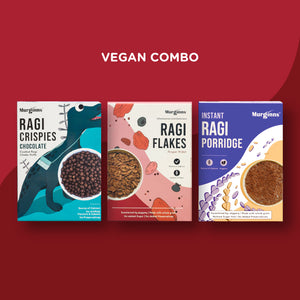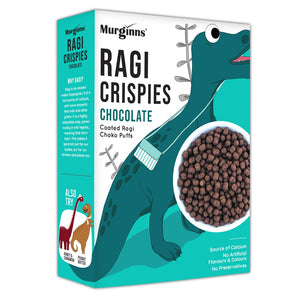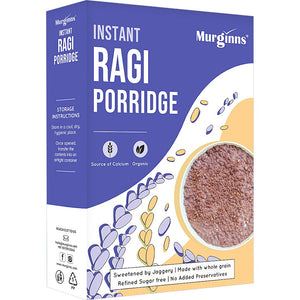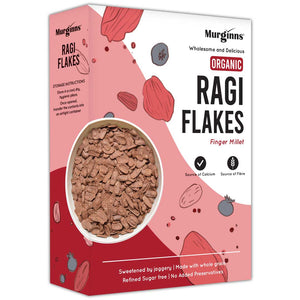 The perfect combo to shake up your breakfast. Includes :
1 x Ragi Crispies Chocolate, 300g
No Rice, No Corn. Just Ragi, Cocoa and a little sweetness. Craving something chocolate-y and want something healthy? Our Chocolate Ragi Crispies are the healthier upgrade of the chocos puffs we all grew up eating. 
A rich chocolate treat, that is crunchy, delicious and healthy. Best enjoyed with cold milk or straight from the box! 
1 x Ragi Flakes -Organic, 275g 
Made of only Ragi (Nachni) and Jaggery, we guarantee that the Murginns Ragi Flakes will become your favourite breakfast. Murginns Ragi Flakes is 100% organic and refined sugar free. With 10x the amount of calcium found in rice, Ragi is the superfood you need to supercharge your day.
Certified Organic. Free from refined sugar and gluten. 
1 x Ragi Porridge - Organic, 300g 
Made of only Ragi (Nachni) and Jaggery, our Ragi porridge provides the idea breakfast for people of all ages. With 10x the amount of Calcium found in rice, Ragi is the superfood you need to recharge your day
To 3 tablespoons of Porridge, add hot milk and stir. The Ragi is porridge is ready to eat! 
Other information 
M.R.P. : Rs. 695.00 inclusive of all taxes 

(MRP changes as per quantity selection)

Marketed by : KCL Limited 135 Sector 24 Faridabad - 121007 

Manufactured By : KCL Food A Unit of KCL Limited, Paonta Sahib -173025 Himachal Pradesh

Country Of Origin : India

Customer Care Address : KCL Food 

135 Sector 24 Faridabad - 121007, hello@murginns.com, Phone number : +91 8929688249
Can be eaten by toddlers, adults, and elderly people. Soft Food
Certified Organic. Refined Sugar-Free.  
PRODUCT OF INDIA
Give people choice to add their own natural sweeteners
Remove sugar ... people will add what they want. Apart from it product is good.
Exclude Sugar from your products
All your products are good enough, except Ragi crispies. It has refined sugar as one of the main ingredients. I suggest you to cut down on refined sugar completely and increase the level of jaggery. Maybe experiment with different kinds of jaggery.
Frequently asked questions
What is Murginns cereal made of?
Ragi , Oats and all natural flavours
Where can I buy your cereal?
Rght here on our website!
Do kids like Murginns cereal?
They LOVE it.
Is your cereal healthy?
Yes! Our cereal is made with calcium rich ragi, low sugar, gluten free and made with only the good stuff.
Is your cereal vegan?
Our ragi flakes, porridge and peanut butter and chocolate crispies are vegan
Do they contain any sugar?
Our ragi flakes, porridge and granola are naturally sweetned with jaggery. Our ragi crispies have jaggery and some refined sugar hich is about a third of what you will find in conventional brands!