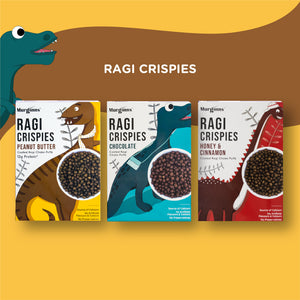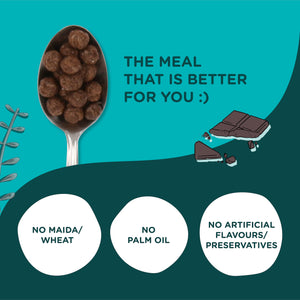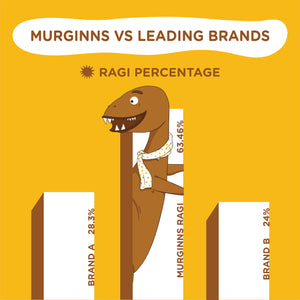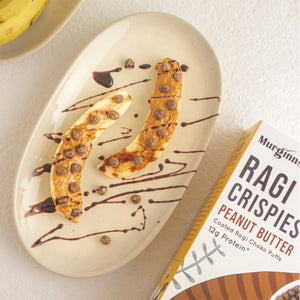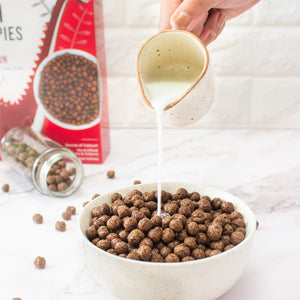 A different flavour for each day, or simply mixing them all up in a bowl! Includes:
Includes:
1 X Ragi Crispies Chocolate, 300g 
No Rice, No Corn. Just Ragi, Cocoa and a little sweetness. Craving something chocolate-y and want something healthy? Our Chocolate Ragi Crispies are the healthier upgrade you are looking for. A rich chocolate treat, that is crunchy, delicious and healthy. Best enjoyed with cold milk or straight from the box! 
1 X Ragi Crispies Peanut Butter, 300g 
Made with just Ragi, Peanuts and a little sweetness, ingredients you can feel goof about! Perfectly crunchy, Peanut Butter Ragi Crispies are full of protein, good fats and calcium. Enjoy it with milk or straight from the box, you won't be able to stop. 
1 X Ragi Crispies Honey Cinnamon, 200g 
No Rice, No Corn, No Wheat. Just a Ragi, Honey and Cinnamon crunchy cereal. Honey provides the sweetness and Cinnamon the heat to form the perfect cereal combination. 
Other information 
M.R.P. : Rs. 670.00 inclusive of all taxes 

(MRP changes as per quantity selection)

Marketed by : KCL Limited 135 Sector 24 Faridabad - 121007 

Manufactured By : KCL Food A Unit of KCL Limited, Paonta Sahib -173025 Himachal Pradesh

Country Of Origin : India

Customer Care Address : KCL Food 

135 Sector 24 Faridabad - 121007, hello@murginns.com, Phone number : +91 8929688249
Excellent Gluten-free breakfast
My kids & I have been thoroughly enjoying our ragi crispies for breakfast. Being gluten & dairy intolerant, we are limited in what we can eat. So glad we came across Murginns. Will be ordering more for sure!
Over eating Controller..!!!
I have been constantly battling my over eating problem since 2016....failing many times at various ways of controlling it... then one fine day Instagram gave me an ad for Murginns....the video was truly making me hungry🤭... so I decided to try it and I just reordered the combo again...!!! It has cut down my intake of junk food from twice/thrice a week to only 2 times a month...!!!!! That's an amazing control I have had in 5 years of my over eating problem. I would gladly recommend this to anyone who is suffering from over eating problem..like me...!! One bowl of this is enough to fill your stomach till evening and truly make you not crave for junk food in any form...!!!
Expensive and not upto quality
Poor taste,and very expensive
Ragi Crispies Combo - Choco, Peanut Butter, Honey Cinnamon
Ragi crispies combo
I love them all ! Especially the choco flavour is just amazing! I will definitely recommend others to buy and I'd buy these again soon !
Frequently asked questions
What is Murginns cereal made of?
Ragi , Oats and all natural flavours
Where can I buy your cereal?
Rght here on our website!
Do kids like Murginns cereal?
They LOVE it.
Is your cereal healthy?
Yes! Our cereal is made with calcium rich ragi, low sugar, gluten free and made with only the good stuff.
Is your cereal vegan?
Our ragi flakes, porridge and peanut butter and chocolate crispies are vegan
Do they contain any sugar?
Our ragi flakes, porridge and granola are naturally sweetned with jaggery. Our ragi crispies have jaggery and some refined sugar hich is about a third of what you will find in conventional brands!