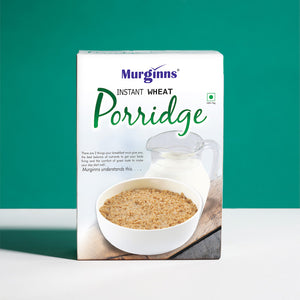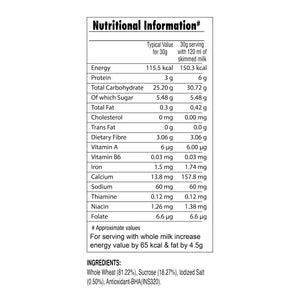 The Murginns Instant Wheat Porridge is our oldest and most loved product. The Porridge is a favourite of people of all ages as it provides the perfect energy to kickstart your day. It has the fibre and goodness of wheat that make it the perfect warming meal. 
Add some warm milk to the porridge and it's ready. 
Other information 
M.R.P. : Rs. 195.00 inclusive of all taxes 

Marketed by : KCL Limited 135 Sector 24 Faridabad - 121007 

Manufactured By : KCL Food A Unit of KCL Limited, Paonta Sahib -173025 Himachal Pradesh

Country Of Origin : India

Customer Care Address : KCL Food 

135 Sector 24 Faridabad - 121007, hello@murginns.com, Phone number : +91 8929688249
Convenient and delicious
I have been using it for a long time. It is a go-to breakfast, snack, and dinner for us whenever we are running busy. I was glad to find it online, as the supermarkets in the new place I moved to, didn't stock them.
Good
Used for long. It's tasty and nice. A bit expensive
I'm loving it!
I have been purchasing this since my hostel days and I'm pleased that the product quality is still so great!!
Worth the money
LOVE IT. But it doesn't stay in stock all the time.
Frequently asked questions
What is Murginns cereal made of?
Ragi , Oats and all natural flavours
Where can I buy your cereal?
Rght here on our website!
Do kids like Murginns cereal?
They LOVE it.
Is your cereal healthy?
Yes! Our cereal is made with calcium rich ragi, low sugar, gluten free and made with only the good stuff.
Is your cereal vegan?
Our ragi flakes, porridge and peanut butter and chocolate crispies are vegan
Do they contain any sugar?
Our ragi flakes, porridge and granola are naturally sweetned with jaggery. Our ragi crispies have jaggery and some refined sugar hich is about a third of what you will find in conventional brands!