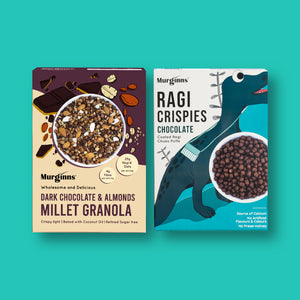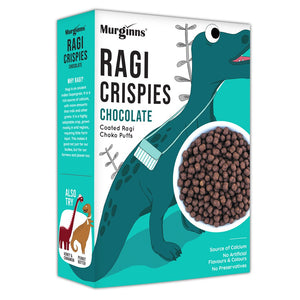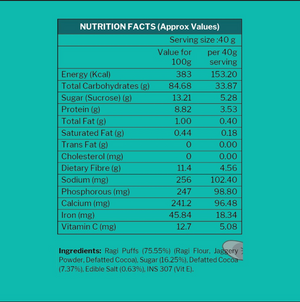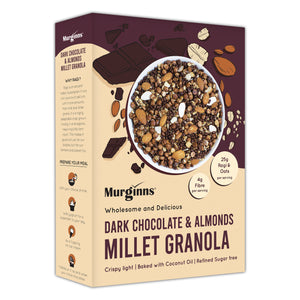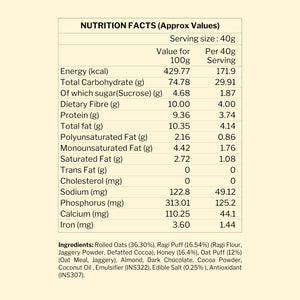 Includes :
1 X Dark Chocolate and Almonds Granola, 350g 
We have created the most delicious, indulgent and healthy breakfast for you with our Dark Chocolate and Almond Millet Granola. We've mixed together rolled oats, ragi and oat puffs and coated them in decadent dark chocolate. Its crispy and light with a rich and delicious chocolate taste. Your perfect companion all day from breakfast to dessert! 
1 X Ragi Crispies Chocolate, 300g 
No Rice, No Corn. Just Ragi, Cocoa and a little sweetness. Craving something chocolate-y and want something healthy? Our Chocolate Ragi Crispies are the healthier upgrade you are looking for.  A rich chocolate treat, that is crunchy, delicious and healthy. Best enjoyed with cold milk or straight from the box! 
The perfect duo to solve all your chocolate cravings. Snack healthy, stay healthy with this chocolate combo!
Other information 
Rs. 595.00 inclusive of all taxes 

Marketed by : KCL Limited 135 Sector 24 Faridabad - 121007 

Manufactured By : KCL Food A Unit of KCL Limited, Paonta Sahib -173025 Himachal Pradesh

Country Of Origin : India

Customer Care Address : KCL Food 

135 Sector 24 Faridabad - 121007, hello@murginns.com, Phone number : +91 8929688249
All in all a good product.
I bought the product after going through the ingredient list and the nutrition facts , and finding mostly organic and natural stuff,and after trying it , it tastes pretty good too.The only honest thing i would like to advise is on the quantity on the Chocolate Millet flavour,like add 1 more little serving to it like 20-40 grams,and it will be a more bang of a buck deal. Otherwise a very good job done guys,how can i invest in the company,haha?
Loving it
Its an healthy and tasty breakfast option. And i also like to have it as an ice-cream topping.
Great start for the day
Taste, quality everything is good.surely I will recommend this as a breakfast
Delicious and healthy snack
It is a great snack , which is healthy and delicious as the same time.
My kids love it
The products are super good.. Light and healthy.. I am worried now as my kids like nothing else for breakfast but the ragi crispies and granola, both chocolate flavors. Thanks for making healthy snacks.
Frequently asked questions
What is Murginns cereal made of?
Ragi , Oats and all natural flavours
Where can I buy your cereal?
Rght here on our website!
Do kids like Murginns cereal?
They LOVE it.
Is your cereal healthy?
Yes! Our cereal is made with calcium rich ragi, low sugar, gluten free and made with only the good stuff.
Is your cereal vegan?
Our ragi flakes, porridge and peanut butter and chocolate crispies are vegan
Do they contain any sugar?
Our ragi flakes, porridge and granola are naturally sweetned with jaggery. Our ragi crispies have jaggery and some refined sugar hich is about a third of what you will find in conventional brands!