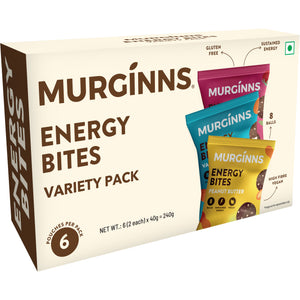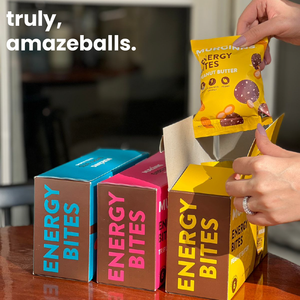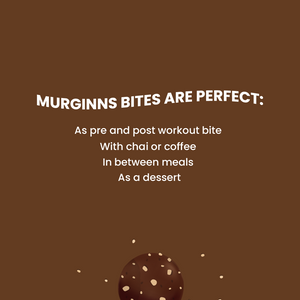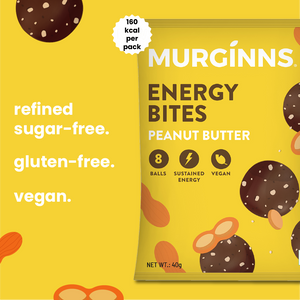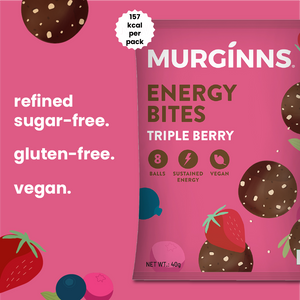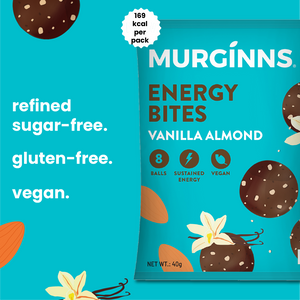 These delicious date based bites are the perfect poppanle treats that are packed with whole food ingredients. Snacks so irresistibly good that you can't stop at one!
Contains : 2 x 40g Peanut Butter Energy Bites 
                  2 x 40g Triple Berry Energy Bites
                  2 x 40g Vanilla Almond Energy Bites 
Free from refined sugar and gluten. Vegan 
Other information 
M.R.P. : Rs. 390.00 inclusive of all taxes 

Marketed by : KCL Limited 135 Sector 24 Faridabad - 121007 

Manufactured By : KCL Food A Unit of KCL Limited, Paonta Sahib -173025 Himachal Pradesh

Country Of Origin : India

Customer Care Address : KCL Food 

135 Sector 24 Faridabad - 121007, hello@murginns.com, Phone number : +91 8929688249
JUST ABSOLUTELY AMAZING 😍
I expected these to be something not that great but nutrition wise they were very good and taste wise too i can say they were great considering how nutritious they were u can expect that punch that sugary sweets gives you. But all in all they were amazing. P.s. There were eight but i ate 2 so there are six in the picture.
The best fix for all my cravings!
The energy bites are such a great, power packed snack for when random cravings hit and you want to avoid munching on junk food. Absolutely love these! :)
Good and healthy snack
The best thing about this snack is that my kids love the peanut flavour. The bite size of the product is really great, as it is just the right quantity to consume and curb that sweet craving. The flavours are delectable. Highly recommended
So good!
I really loved these. The flavours are strong and true to what they promise in the name. Great texture, perfect size for a snack or something a little sweet to finish a meal. Love them with nut/seed butter or just on their own. Really good when warmed for a few seconds in the microwave as well! Amazingly don't go soft and gummy and the crispy bits stay crisp! More flavours ASAP please!
Great for hunger pangs
Vanilla almond is tasty. While others are just fine. Great as late night snacks or after meals.
Frequently asked questions
What is Murginns cereal made of?
Ragi , Oats and all natural flavours
Where can I buy your cereal?
Rght here on our website!
Do kids like Murginns cereal?
They LOVE it.
Is your cereal healthy?
Yes! Our cereal is made with calcium rich ragi, low sugar, gluten free and made with only the good stuff.
Is your cereal vegan?
Our ragi flakes, porridge and peanut butter and chocolate crispies are vegan
Do they contain any sugar?
Our ragi flakes, porridge and granola are naturally sweetned with jaggery. Our ragi crispies have jaggery and some refined sugar hich is about a third of what you will find in conventional brands!