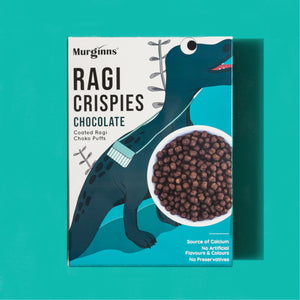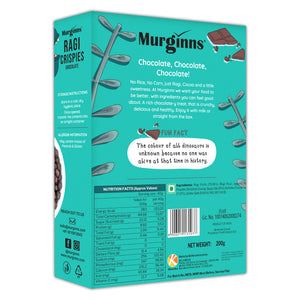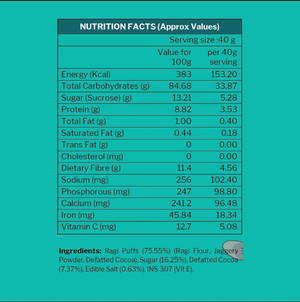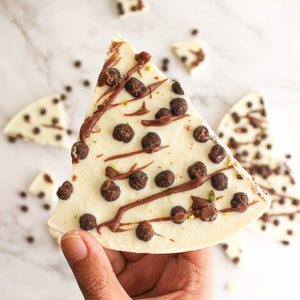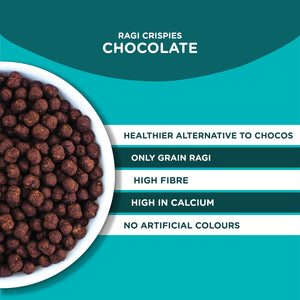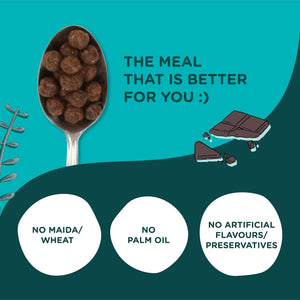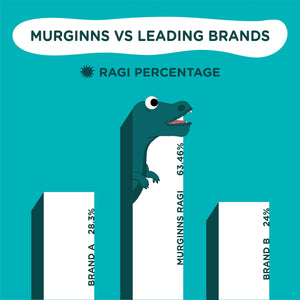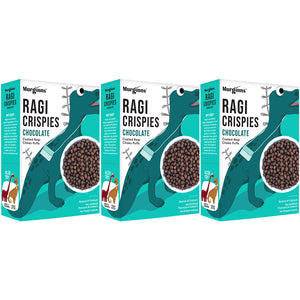 Chocolate, Chocolate, Chocolate!
No Rice, No Corn. Just Ragi, Cocoa and a little sweetness. Craving something chocolate-y and want something healthy? Our Chocolate Ragi Crispies are the healthier upgrade to regular cereal!
A rich chocolate treat, that is crunchy, delicious and healthy. Best enjoyed with cold milk or straight from the box! 
Other information 
M.R.P : Rs. 245.00 inclusive of all taxes 

Marketed by : KCL Limited 135 Sector 24 Faridabad - 121007 

Manufactured By : KCL Food A Unit of KCL Limited, Paonta Sahib -173025 Himachal Pradesh

Country Of Origin : India

Customer Care Address : KCL Food 

135 Sector 24 Faridabad - 121007, hello@murginns.com, Phone number : +91 8929688249


Didn't enjoy the taste
I like the idea of ragi cereal but I feel the flavour needs to be improved. The ragi flavour is vwey apparent and the chocolate flavour d9esnr come through enough. They are excessively crisp and don't soften even in warm milk - It gets uncomfortable to eat.
Ragi crispies? Tried it ...
I love everything about this cereal, the cruchiness it retains even after soaking it in milk for a long time to the taste. The only thing i was concerned about was the 16% sugar content for its taste, jaggery could have been a better option or dates powder perhaps. It would have been a game changer..
amazing product
I don't think there would be a healthier, tastier n filling option available in the market, loved the product.
Healthy & Tasty Cereal
My daughter really loves it and is very healthy at the same time tasty and which I impressed most is the natural sugar content in it ..really a genuine review from my side as it is good, healthy and with healthy content ..
Frequently asked questions
What is Murginns cereal made of?
Ragi , Oats and all natural flavours
Where can I buy your cereal?
Rght here on our website!
Do kids like Murginns cereal?
They LOVE it.
Is your cereal healthy?
Yes! Our cereal is made with calcium rich ragi, low sugar, gluten free and made with only the good stuff.
Is your cereal vegan?
Our ragi flakes, porridge and peanut butter and chocolate crispies are vegan
Do they contain any sugar?
Our ragi flakes, porridge and granola are naturally sweetned with jaggery. Our ragi crispies have jaggery and some refined sugar hich is about a third of what you will find in conventional brands!